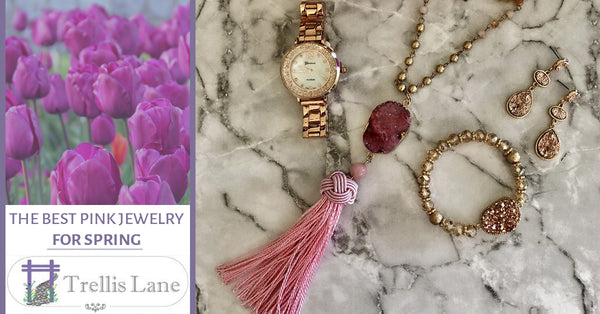 The Best Pink Jewelry for Spring
It's hard to believe, but spring is just around the corner! And with that comes the transition from rich, jewel tones and darker shades to bright, springy colors. One of our favorite colors here at Trellis Lane designs is pink. Pink is an incredibly versatile color, and looks just as gorgeous as a muted shade of pink as it does a dazzling fuchsia. No matter where your preferences lie, we've got trendy jewelry in every shade of pink for you.
Trellis Lane Designs is an online jewelry store with trendy jewelry, accessories, and more…and all at an affordable price. Shop online for the best druzy jewelry, natural stone, Swarovski, gold and silver, and more. No matter what look you're going for, you're sure to find it at Trellis Lane. Shop online today!
Here are some of our favorite pink jewelry looks.
You know what we love about these stunning light pink gem earrings? They're perfect for pairing with a cocktail dress, but will look just as fab with your boyfriend's tee and jeans. This shade of pink is flattering on everyone, and you'll add the perfect touch of glam no matter what you wear them with.
This is probably the cutest watch we've ever laid eyes on! The Pink Heart Watch features a gorgeous hot pink strap and the face shows confetti hearts in varying shades of pink. Each number is marked with a dainty little CZ, but the 12 is a rose gold heart. You need this in your life!
If you're on the hunt for a pink necklace, this one is all that—and a bag of chips. The pink druzy stone hangs from a long gold chain, and is accented with a light pink tassel and bead. It's the perfect combination of dramatic and dainty.
If you're really digging natural stone but want to add a splash of bold color, this is the pink necklace for you. The agate comes in an irregular shape, with a smooth, glossy finish on the cross-section. You can see a multitude of pinks, purples, grays, and clear striations in this one, and each is 100% unique.
Add a touch of elegance to your look with this pink CZ bracelet. It features a timeless classic look with the sterling silver twist band and the two pink CZ stones that cap each end. Touches of gold accent the piece, adding depth to an already beautiful bracelet!
These are just a few of our favorite pink jewelry looks. Shop the online jewelry store at Trellis Lane Designs for all the best looks your heart desires!